I moved to Japan on April 1st 2008, the very same day that my first graphic novel came out. So I wasn't exactly centrally located to do book signings or attend comic conventions.
Since returning to the US earlier this year, I've tested the waters by participating in a number of local events. I've presented at the Loft Literary Center, and had a table at SpringCon, the Minneapolis Indie Xpo, and the Twin Cities Book Festival.
My first appearance outside of Minnesota occurred the weekend before last, and it was a doozey: the Miami Book Fair.
The organizers of the event were incredible hosts. They flew me down and put me up in a fancy hotel. The author hospitality suite was well stocked so I was never wanting for anything. And then there was the swanky rooftop authors' party, with tasty grub and free booze.
Perhaps someday I'll turn into an obnoxious bigshot that expects this sort of treatment as a matter of course (fingers crossed!) but for now I was quite honored to be treated so splendidly.
I participated in a panel with three other cartoonists.


(Stanford lecturer/writer Adam Johnson also participated.)
Each of us gave a brief presentation and then took questions from the audience.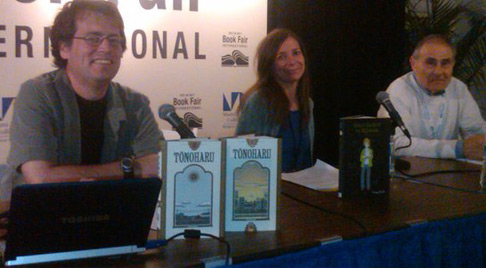 Pictured: Me, Tracy White, and Sid Jacobson [Photo courtesy of John Shableski]
It was the first presentation I've ever given about my work (the presentation at the Loft was about self-publishing). There are certainly areas for improvement in my presentation & delivery, but for the most part I feel it went quite well.
The Book Fair was also a great opportunity to meet cartoonists (and other publishing industry professionals) from all over the country. It was both inspiring and informative to spend time with so many talented people.

Pictured: Me, cartoonist Barry Deutsch, Diamond Book Distributor sales manager John Shableski, and cartoonists Amy Ignatow & Chris Schweizer

Pictured: Vanessa Davis and I. (She may be standing in a hole.)

Pictured: The Top Shelf Comics booth, manned by Chris Staros and Dean Haspiel
Before the Miami Book Fair, I was sort of on the fence about whether it'd be fruitful to travel across the country to go to distant book shows (on my own dime, at least). Considering all the travel/hotel/convention/food expenses, I think it'd be hard to sell enough books to break even, much less turn a profit.
But meeting people at the Book Fair was so rewarding that I've decided that there are other considerations beyond the bottom line. I'm hoping to go to a least a few conventions/fairs around the country in 2011 and see how it goes. If anyone has any suggestions of good ones, please leave a comment!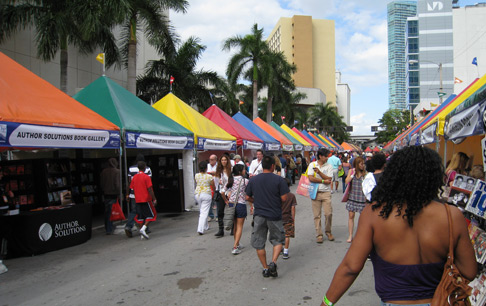 My sincere thanks to Lissette Mendez and the rest of the Miami Book Fair staff, and the people who came out to hear my talk!