My digital comics are available in two main formats:
For iPhone, iPad, and iPod touch:
Available for download as e-books (e-comics?) the iBookstore for the iPhone and iPad for only 99-cents each!
The Kameoka Diaries: Volume One [ Direct iBookstore Link ]
The Kameoka Diaries: Volume One is a humorous (?) account of my experiences living and working in Central Japan, told over eight chapters. It includes an exclusive chapter not available anywhere else!
Young Men of a Certain Mind [ Direct iBookstore Link ]
Young Men of a Certain Mind is a slice of life comic about an unemployed graphic designer who takes a job as a night bellman to make ends meet. Drawn in 2003, it is a spiritual predecessor to my graphic novel Tonoharu. (Young Men of a Certain Mind is also available as a print comic here.)
******
As a DRM-free PDF file for Computers/Android Devices/etc.:
The Kameoka Diaries: Volume One PDF [ Buy Now! (With a credit card) ]
This DRM-free PDF is formatted with one panel per page, for optimal viewing on smartphone-sized screens and larger screens alike.
I'm working on a Paypal payment option, which I should have ready soon. Watch this space!
FEATURES OF THESE E-COMICS:
1) They Have Exclusive Content.
The Kameoka Diaries e-comic contains a chapter I never put online, and it's the funniest of the bunch IMHO:


Above: actual, unaltered panel from the exclusive chapter. I swear it makes sense in context.
And the last 20% of Young Men of a Certain Mind e-comic has never been put online, so that's new too.
2) They're in HD.
The resolution of the images in the e-comics is twice that of their online counterparts. They're incredibly crisp, taking advantage of the iPhone 4 and the new iPad's Retina Displays (though they also work great on pre-Retina Displays too). The difference is striking. Here's a couple enlarged comparison shots of the the online version vs. the e-comic one:

An appropriately narcissistic example.

The devious, creepy foreigner from the Japanese textbook looks all the more devious/creepy!
3) They Work Great on the iPhone/other smartphones.
Most e-comics don't work well on smartphones. They were originally designed for large printed pages, so when you try to read them on the smaller iPhone screen, you spend half your time pinching and zooming to read to the microscopic text, and the other half scanning around the "page" to find the next panel.
I designed The Kameoka Diaries from the ground up to play nice with iPhones. The panels are optimized for that screen size. The text is legible without pinching and zooming. You don't need to scan around the "page" to find the next panel. Each panel is its own page, so you just flip from panel to panel to panel, like turning the pages of a book. It's a joy to read, rather than a chore.
This'll sound arrogant, but honestly: no other digital comic (that I'm aware of) works as well on the iPhone as mine do. But don't take my word for it; you can download a free sample through the iBookstore and decide for yourself: [ Direct iBookstore Link ]
(Side note: The iBookstore version also work great on iPads, in both portrait or landscape mode, adapting to the larger screen size by showing 4-8 panels at once.)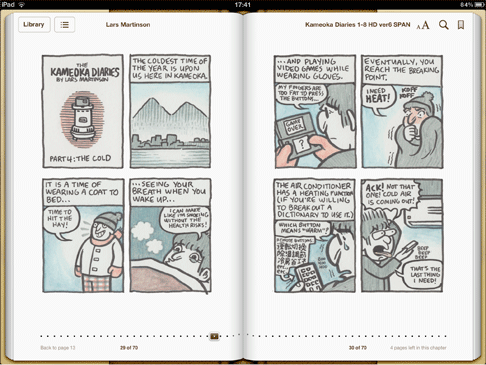 4) They're Cheap.
I've always felt a bit sheepish about the price of my print graphic novel Tonoharu ($20 per book). That's a significant chunk of change, especially with the economy being what it is, and with all the cheap/free entertainment alternatives out there. But my hands are sort of tied; with the way print book production/distribution works, I can't really sell them cheaper than that.
Which is one of the reasons the e-comic format excites me. For the first time, I can sell my work at prices that really feel like bargains. I mean, 99-cents! That's literally cheaper than dirt!
5) You'll Help Support the Artist / Fund Future Installments.
Okay, obviously I didn't go into comics for the money (I'd be way ahead financially if I had devoted the time I spent on comics to a minimum wage job).
But at the same time, I'm not indifferent to financial concerns. So I'll admit: if these e-comics totally flop, I probably won't keep making them.
If I can manage to sell just, say, a few hundred copies, I'll consider that an encouraging enough sign to keep at it. I think that's a realistic sales target, but I don't think it's a foregone conclusion by any means. So if you like The Kameoka Diaries and would like to see more installments of it, throwing a buck or two in my direction will go a long way to helping ensure that that happens.
******
The Kameoka Diaries: Volume One [ Direct iBookstore Link ]
Young Men of a Certain Mind [ Direct iBookstore Link ]
The Kameoka Diaries: Volume One PDF [ Buy Now! ]
To get them, click on the links above. And if you like them, please rate them on the iBookstore, and/or tell your friends. Thanks!!