Can I sell you some cartoon books, sir or madam??
Last Saturday I had a table at the Twin Cities Book Festival. It's the third show I've ever "tabled" at, and was my most successful so far.
This was probably due in large part to the fact that I had a new book to sell (Tonoharu: Part Two). Or maybe I just got lucky this time around. But I think part of it was that I'm getting better at convention sales.
I've previously written about my thoughts on selling at conventions here. For this entry, I thought I'd write continue writing about that, with a focus on table presence.
****
At the last convention I did (the Minneapolis Indie Xpo) I took a picture of my table so I could use it for a blog recap I wrote about the event. It wasn't until I looked at the photo later that I realized how sparse and depressing my setup was: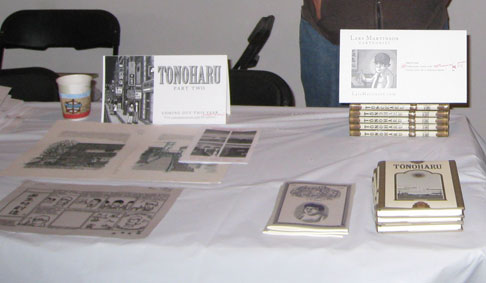 The empty coffee cup was a good design choice, don't you think?
So this time around, I tried to jazz up my space a bit more (see image at the top of this post). At MIX, I noticed many exhibitors brought a table cloth to decorate their table. It's a small thing, but it makes a difference. So I did that this year. I also got little book stands to give the book covers more visibility.

My entire creative output for the last seven years
I only have three books for sale, so to fill up the rest of the space I designed a tabloid-size poster with quotes about the book, to try to pique people's interest. If you want to closer look at it, you can download a high resolution PDF of it here (file size: 1.1MB, right click to save). Feel free to print a bunch out and hang them up around town, folks! :-)
I also brought framed original art. I didn't sell any, but they served as good conversation pieces when I talked to people about my work. And again, they filled up the space and made for a more appealing table.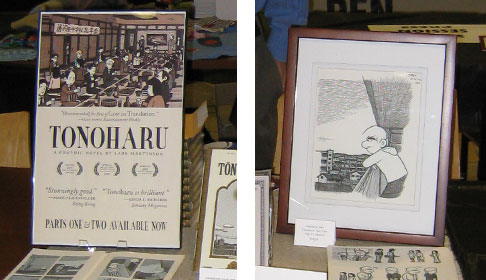 Either end of my table
I also finally got business cards printed up. (Okay, I know; that's Networking 101, and I should have done it ages ago.) They were good to give to people who were interested in my work, but who weren't ready to buy. Quite a few people grabbed one as they passed by. Since I had them printed up specifically for conventions, the cards just have my name and website. I figure that's all most people would want anyway; a reminder of who I am and where they can find out more about my work.

My card
Well, that's it for now. See you all at my next convention appearance, at the Miami Book Fair on November 20th-21st! (You're all coming down for that, right?)
Previously: Thoughts on Selling Comics at Conventions (Part 1)