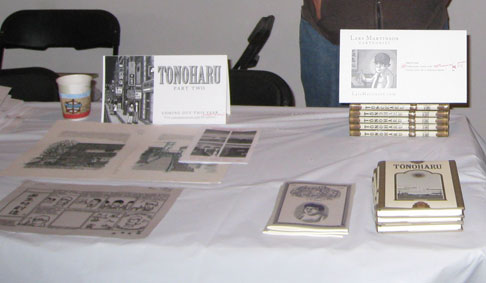 Pictured: My sparse, ratty little table
Last Saturday I had a table at the inaugural Minneapolis Indie Xpo.
MIX is only the second convention I've ever sold my work at, so I wasn't sure what to expect. But I wasn't expecting much. My first convention (SpringCon 2010) was an interesting experience, but also quite humbling. Attendees showed little interest in my work, and my sales were in the low single digits.
Since I was lugging books to MIX in my backpack, I didn't want to bring more than I needed. So I brought eight copies of Tonoharu: Part One and about a dozen copies of Young Men of a Certain Mind. That was 2-3 times as many as I sold at SpringCon, so I figured that'd be enough.
I'm delighted to say that sales were much better than at SpringCon; I sold out of Tonoharu a couple hours before MIX ended, and only had a couple copies of YMCM at the end of the night.
Granted, I was selling Tonoharu at a discount; 25% off the cover price. But I also think that the venue was a much better fit for my work. SpringCon is more about mainstream comics, and sort of has a flea market feel to it. Not the best place to try to sell artsy, hardcover graphic novels.
This is why I've decided my next convention appearance will be the Twin Cities Book Festival, instead of FallCon (they fall on the same day, so I can't go to both). Guess we'll see how it goes!
Oh, one more note: MIX was just awesome. If you didn't go this year, I strongly recommend you check it out next year. I was damned impressed with the whole thing. Thanks to organizers Andy Krueger and Sarah Morean for putting together such a great show!