Flower paintings by Jan Brueghel and Jakuchu, respectively
This entry picks up right where the last one left off, so you should read that first if you haven't already.
Traditionally, Western painters have had little interest in preserving the energy record contained in lines; in fact, they often actively worked to obscure them. Brushstrokes weren't seen as expressions of movement, but merely a means of applying color to the canvas. Painters sought to create a realistic facsimile of the world around them, and to the service of this goal they would apply layer upon layer of paint, smearing and dabbing away lines in the process. By the time the piece was finished, a sense of the energy might be conveyed through color or composition, but the energy record the actual brushstrokes was often completely diffused.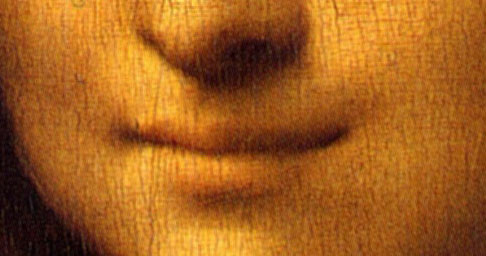 Not Pictured: Brushstrokes
In contrast, for millennia East Asian artists have taken great care to preserve the elegant energy records that well-rendered lines contain. They work in water-based ink, which is conducive to the creation of long flowing strokes that one could never achieve with the thick oil paints of the West. The cylindrical Chinese ink brush allows for nimble movement in every direction, as opposed the clunky square-tip brushes often favored in Western painting*.

Top: Chinese Ink Brush
Bottom: Oil Paint Brush
*(To be fair, oil painters do use pointy brushes too; but I would still hold that they are generally coarser than Chinese ink brushes)
East Asian art was/is typically rendered on paper, silk, or polished stone, which provided a much smoother surface for capturing subtle energy changes than the thick, course canvas traditionally used in the West.
The aesthetic ideals and techniques used in East Asian art are also geared towards the preservation of the energy records contained in lines. Compositions tend to be simple, with extraneous details left out. This allows the energy contained in the lines of the essential components can be more clearly understood.
Going back and "touching up" lines after they've been written is frowned upon, to the point where it's practically taboo. The artist has one shot to lay down elegant, powerful lines, and if they fail, then oh well, maybe next time. Touching up lines after the fact would only weaken and diffuse their power, moving them closer to the static of a scribble.
To my mind, East Asian calligraphy is the purest expression of the tenets of East Asian art. The careful, deliberate preservation of lines/energy records is a big part of what makes it unique from much of Western art, but obviously there's more to it than that. We'll continue next week with my thoughts about what features that make for "good" calligraphy.