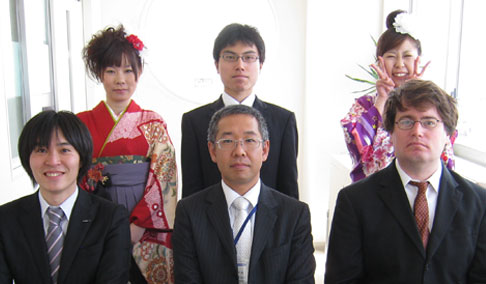 By Wednesday evening of next week, my tenure as a Monbukagakusho research scholar will officially be over, and I'll be back in the United States for the first time in two years.
It hasn't even begun to sink in, but that's par for the course for me. In addition to Japan I've previously lived Thailand and Norway for extended stays, and in every case the imminence of my return to the States doesn't really hit me until I board the plane. Or until the first time I handle dimes, nickels and quarters again. Or until I step out into Minnesota air that's thirty degrees colder than the air I had breathed half a day before.
I came to Japan to study East Asian calligraphy in the hopes that it would improve my comics, and it has, profoundly. But after two years I think the law of diminishing returns has started to kick in, so the timing to pack it in and move on is probably about right. Also, this had been the longest continuous stretch that I've ever been abroad, so I'm really excited to see family and friends again.
On the other hand, I've had such a great experience here that I'm sad that it's come to an end. My Japanese has finally reached the point where I can actually communicate with people in a semi-normal manner, and as such I've made much closer Japanese friends than the last time I stayed here. So it's harder to say goodbye to them than the last time I lived in Japan. Oh well, all good things must come to an end.
By no means am I done with traditional East Asian art. I plan to continue to study calligraphy on the side, and hope to study sumi-e ink painting as well. Regular readers may recall that I'm working on a comic book about East Asian calligraphy, and I intend to eventually finish that as well (don't hold your breath, though).
Well, I've got a lot of packing and last minute preparations to do, so I'll leave it at this. I've prepared a couple entries to go up the next two Fridays so I don't have to worry about them while I'm settling back in to life in the States. After that I'll write about what's in store for me next. So stay tuned, dudes!