Pictured: My darling little comic book 
I'm happy to report that I now have advance copies of my first graphic novel, Tonoharu: Part One in my hot little hands! Want them in your hot little hands too? Read on:
Tonoharu: Part One
Recipient of the prestigious Xeric Grant!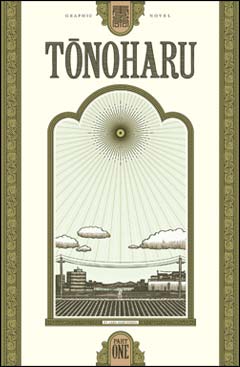 "A fully realized, engaging tale of international alienation."  
— Francisca Goldsmith, BOOKLIST Starred Review
Tonoharu is a four-part graphic novel that tells the story of a group of foreigners living in Fukuoka-ken, Japan. It was informed by my three-year experience as an assistant English teacher through the Japanese Government-sponsored JET Program.
From the back cover of Tonoharu: Part One
Daniel Wells begins a new life as an assistant junior high school teacher in the rural Japanese village of Tonoharu.

Isolated from those around him by cultural and language barriers, Dan leads a monastic existence, peppered only by his inept pursuit of the company of a fellow American who lives a couple towns over.

But contrary to appearances, Dan isn't the only foreigner to call Tonoharu home. Across town, a group of wealthy European eccentrics board in a one-time Buddhist temple, for reasons that remain obscure to their gossiping neighbors.

Sample Artwork
Click on an image to enlarge. Color scheme of final book is different than what is represented here.

Book Details:
Tonoharu: Part One
5.25″x8.25″, 128 pages, Two-color.
Cloth Hardcover w/ full color dust jacket w/ gold highlights.
ISBN Number: 978-0-9801023-2-1
Publisher: Pliant Press
Cover Price: $19.95
Interested parties can get their own copy in one of three ways:
1) Order it directly from me, via Paypal / Credit Card:
Price: $19.95
Minnesota residents pay an additional 6.5% sales tax.
Shipping: $2.13 for shipping to USA and Canada via Media Mail. $8.00 to the rest of the world, via first class mail.
Click this button to order now:

Bonus: Order by March 23, and you can get your copy signed, if you so desire. Just note that you want a signed copy in "Optional Instructions" box as you checkout, and say who you want it made out to, if anyone.

 2) Pick it up at a convention:
My distribution partner, the great alternative comics publisher Top Shelf Productions, will be on hand at a number of conventions and expos across the country this year. For a list of conventions that Top Shelf will be making apperances at, click here.
My book should be available at their booth, along with a bunch of other great books, such as That Salty Air by fellow Minnesota native Tim Sievert.
 
3) Wait a few weeks, and then pick up Tonoharu: Part One at your favorite retail outlet
Tonoharu: Part One should be available at in comic book stores, bookstores, amazon.com, bn.com, etc., around mid-April or May.
To preorder Tonoharu: Part One from amazon.com, click here.