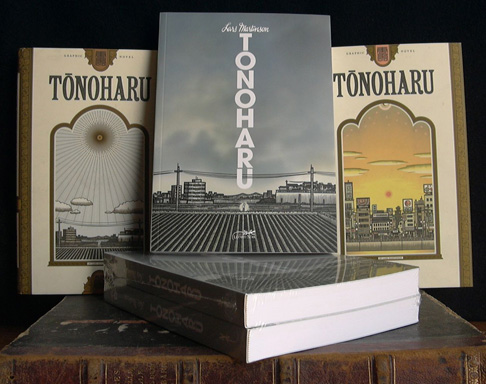 Photo Credit: Anne Cavarroc
So I finally got my hands on a copy of the French edition of Tonoharu, and I gotta say it's a thing of beauty. My French publisher Le Lezard Noir clearly put a great deal of care into the production of the book, and for that they have my gratitude.
I can't read French so the translation isn't meaningful to me, but I have enjoyed looking at the way certain sound effects are represented:


(Note: The "Bling" is blurry because of my lousy scanning, not cuz it's printed that way.)
Just as interesting is seeing what sound effects remain the same: "ha ha", "clap" and "sniff" don't change, and "click" just gets the "k" lobbed off. And I never would have suspected that "flush", "ahem" and "ziiiip" would be the same in French… what can I say, I'm easily amused.
Oh and this is kind of cool: while I was writing this on Thursday afternoon, I hopped on Amazon.fr to look up Tonoharu, and at the time it was the best-selling graphic novel on the site!
At "press time" it's slid down a few spots, but still; pretty groovy!