I alluded to this before, but may as well make it official: I've been prepping two of my comics for release as ebooks!
The two comics are The Kameoka Diaries: Volume One and Young Men of a Certain Mind (tentative covers shown above).
At first, I'm going to release them for iphone/ipad, through the iBooks bookstore. I've been tweaking the underlying code for a couple weeks, and I'm delighted to say that I've finally got them working great on both screen sizes. On iPhones/iPod touches, you see a panel at a time:
And on iPads, you see four panels or eight panels, depending on how you hold the device: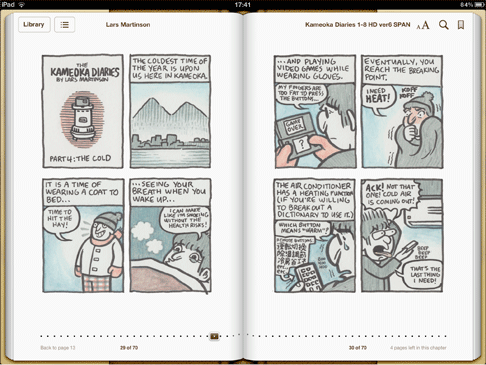 Like I say it works really great on either device (on both Retina and non-Retina displays), and makes for the most pleasant way to read the books electronically. I'm planning on selling them for 99-cents each.
As for a release date, it all depends on when (if?) Apple approves my seller application, and then when (if?) it approves the books after that. I'm hoping to have them up sometime in April. But again, this has more to do with Apple than me. Stay tuned!
***3/31/2012 UPDATE***
Apple has approved my initial seller application! Now I just need to make fill out paperwork/sign contracts with Apple, make final tweaks to the ebook files, and then upload the files, and then wait for their approval on the books themselves. Again, I don't know exactly when the books will be up on iBooks, but shouldn't be more than a matter of weeks (probably)!
***4/6/2012 UPDATE***
Okay, I've uploaded the book files to Apple and am now waiting for approval. Assuming they get approved, they'll probably be available on the iBookstore in 1-4 weeks. I will, of course, keep you posted!
***4/28/2012 UPDATE***
Just thought I'd update to say… nothing new to update! It's now been three weeks since I submitted it, and the status remains that it's still being reviewed. Many people on Apple forums report that it took about a month for their books to get approved, so maybe it'll be up next week. No guarantee though, of course. Well, I check the status everyday, so I'll let you know when it changes!