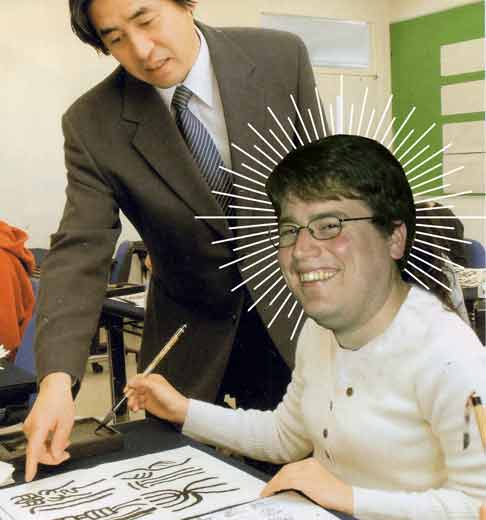 Pictured: Me, in the Future (???) 
As mentioned in my first entry, I'm currently living off my savings and cartooning fulltime. My hope is to make fulltime cartooning a sustainable reality, and as such, money is the predictable bottom line. If this venture fails to earn me at least a living wage, I'll be forced to abandon it (or at least abandon its fulltime pursuit).
But as important as capital is, if I devote too much time to the pursuit of funds, then I wouldn't have any time to devote to my artwork, thus rendering the whole endeavor meaningless. So there's a delicate balance that needs to be reached, between time spent on my art and time devoted to the logistics of getting by. Only in rare instances are these two factors in harmony with each other. One such instance is in my pursuit of a Monbukagakusho (or "Monbusho" for short) Scholarship.
The Monbusho Scholarship, like the JET Program, is funded by the Japanese government, and serves as an exchange program of sorts. But while the JET Program works to introduce diversity to primary and secondary English education in Japan, the Monbusho Scholarships seeks to do it at the university level. There are different types of Monbusho Scholarships, but the one that I'm applying for is a graduate-level research scholarship. My research proposal focuses on Japanese Calligraphy and Ink Drawing.
The application process has proven to be long and arduous, and the guidelines were at times maddeningly vague. But the potential payoff is huge: a full two-year scholarship, plus a monthly stipend to live on. So if I get it, I'll have an opportunity to study Japanese Calligraphy (which I believe would help my cartooning immeasurably), and would get to do so all expenses paid. You can't ask for much more than that. 
There are four main phases to the application process: 1) getting the written application has been completed and turned in, 2) the Interview and Japanese Exam, 3) Obtaining a "letter of acceptance" from a Japanese professor, and 4) Getting the final "OK" from Tokyo. I have currently passed the first three steps, and am awaiting word on the last one. If Tokyo says yes, then I'm in! Needless to say, I'm excited that I made it this far and am anxious to see if I'll get it. There's nothing for me to do now but twiddle my thumbs and wait. I could get word as early as next month, or as late as next February. Naturally, readers of this blog will be among the first to know how it pans out.
Anyway, I've decided that if I do get accepted that I'm going to write an account of the whole application process. Like I mentioned, certain aspects of the Monbusho guidelines are really vague, and there seems to be surprisingly little information to be found on the web about it. On countless occasions I thought to myself that I would have killed to have seen a successful application or three, so I'd at least have some idea of what they're looking for. Since my exhaustive internet search has reveled such things are not readily available, I figured I could fill the void myself. How interesting this would be to non-Monbusho Scholarship applicants I can't say, but oh well.
By next Friday's entry I should be ready to unveil a nigh-complete cover design for Tonoharu, so stay tuned.