This page contains the research proposal I submitted with my 2007 Monbusho Research Scholarship application. It is intended to compliment a blog entry I wrote about it, which can be found here. I'm posting it only for instructional purposes, in the hopes that it might be of some help to future applicants as they write their research proposals. But please don't assume that this is necessarily the "right" way to go about writing/formatting a research proposal for the Monbusho Scholarship, it's just one way to do it (see these disclaimers).
My research proposal was made up of three pages, but only the second page has graphical elements to it. So to save bandwidth, I'll just display the first and third pages as text, and only page two as a scanned image.
***************************
Page One
1 Field of Study (専攻分野)
Research Theme:
The Japanese Mastery of Line:
An Exploration of Traditional Japanese Ink Brush Techniques
Introduction:
At the age of seventy-three, the great Japanese artist Katsushika Hokusai wrote on the subject of his artistic development. He predicted that when he reached the age of 110, his skills would be so great that "every line will surely have a life of its own."
Hokusai may have been overly optimistic about his own life span, but he still achieved a supreme mastery of line nonetheless. And he isn't the only Japanese artist to reach these heights. Throughout history the Japanese have used the ink brush to create the world's greatest line art, in the form of calligraphy, drawings, and paintings.
I have a great appreciation for this school of art because lines play such an important role in my work as well. I am a cartoonist. I believe that comics are a serious artistic medium, and my goal is to create comic books that move people and change the way they see the world. I've been drawing comics for fifteen years, and during that time I've studied many techniques specific to comic books. This focus on comic book techniques has had a positive influence on my artistic development, but I think it's important to explore other disciplines as well if I am to further improve the quality of my line work.
It is for this reason that I would like to study traditional Japanese ink brush techniques. I feel confident that through an exploration of the Japanese methods, I can come closer to the ideals of Katsushika Hokusai—of creating lines that are bursting with life.
Outline:
My exploration of Japanese ink brush techniques will focus on calligraphy and calligraphic styles of drawing. My time will be divided into three main areas:
The first section will be devoted to Japanese Calligraphy, with a focus on the Kaisho, Gyōsho, Sōsho and Edomoji styles. The second will be devoted to Ink Drawings, with a focus on the Suibokuga style. And the third section will be a final project that encompasses all that I've learned.
I am a self-motivated, self-disciplined person. I look forward to the guidance and instruction of my advisor, but I will work hard to ensure that I'm not a burden on his or her time. I will also strive to play an active role at my university and in my community, to help promote international exchange.

***************************

Page Two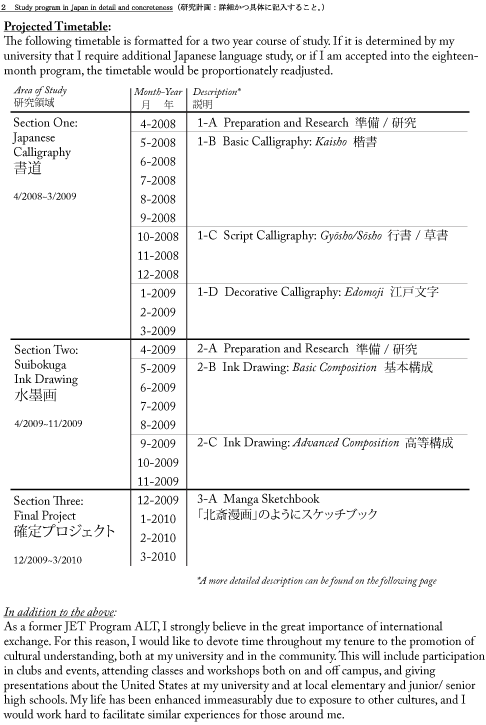 ***************************

Page Three
Detailed Description of Study (continued from previous page):
Section One: Japanese Calligraphy
The study of Japanese Calligraphy will help me develop a basic understanding of Japanese ink brush techniques, and provide a good foundation for the rest of my studies. This section will be divided into four subsections:
1-A) Preparation and Research: In order to help me put the rest of my studies into a context, I will begin with a brief study of the history of traditional Japanese line art, with a focus on calligraphy. I will also use this time to research extracurricular study opportunities in the community surrounding my university.
1-B~D) Calligraphy: I will begin with the basic style of calligraphy, the Kaisho style [1-B], and then move on to script styles of calligraphy such as Gyōsho and Sōsho [1-C], and finish my exploration with decorative styles such as Edo-moji [1-D].
Section Two: Ink Drawing
Building on the basic brush techniques learned from Section One, I will continue with an exploration of representational line art. I will focus on the Suibokuga style, emphasizing the careful application of line, with little or no use of color or shading. Section Two will be divided into three subsections:
2-A) Preparation and Research: Expanding on the historical study conducted in subsection 1-A, I will continue my historical research on traditional Japanese line art, this time focusing on representational line art. As with subsection 1-A, I will also use this time to research extracurricular study opportunities in the community surrounding my university.
2-B) Basic Composition: In an effort to gain a good understanding of some of the basics of the Suibokuga style, I will begin with a constrained approach to composition. Subject matter will be limited to close-ups of plants and animals, as well as portraiture.
2-C): Advanced Composition: Expanding on what I learn in subsection 2-B, I will continue with more ambitious compositions and subject matter. This will include figure drawings and landscapes.
Section Three: Final Project: Manga Sketchbook (Modeled after Katsushika Hokusai's work)
3-A) Final Project: In his "Manga Sketchbooks," Katsushika Hokusai was able to capture the Japan of his day, from the profound to the mundane, the serious to the silly. These are my favorite works of Japanese art, and I often look to them for inspiration. So for a final project, I would like to produce my own "Manga Sketchbook" collection modeled after Hokusai's work. I will venture out into the community and create line drawings of present day Japan using the techniques I have learned over the previous months. I will try to show what Japan looks like through the eyes of a foreign resident. This sketchbook would be printed and bound in a limited run, and distributed to interested parties, such as international organizations. It is my hope that it might facilitate a dialogue on multiculturalism and to help promote international understanding. 
***************************