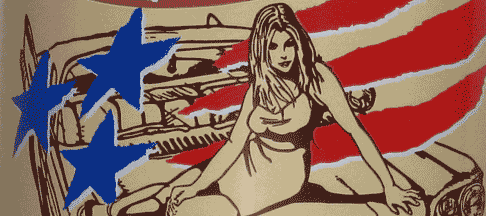 I've been living in Japan for almost a year now, but luckily I have a fail proof method to keep homesickness at bay. Whenever I'm feeling nostalgic for the good ol' U.S. of A., all I have to do is gaze at a can of American Coffee and it's like I'm home again:
It's amazing that Japanese beverage manufacturer Dydo was able to capture the spirit of America in one simple image. The America portrayed on a can of American Coffee is the real America.*
I get a little teary-eyed just looking at it. Oh, say can you see… (*Sniff, sniff*)…
*The "real America" being of course the America of 1970s sexploitation movies.