*For information about my digital comics, click here*
_________________________________________ 
NOW AVAILABLE!
Tonoharu: Part Two
Buy Tonoharu: Part Two  in our STORE>>>


Tonoharu: Part One
Recipient of the prestigious Xeric Grant for 2007!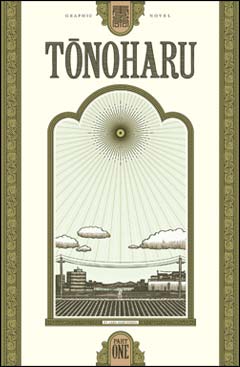 Tonoharu is a four-part graphic novel that tells the story of a group of foreigners living in Fukuoka-ken, Japan. It was informed by my three-year experience as an assistant English teacher through the Japanese Government-sponsored JET Program.
After working on it for about four years (!), the first part of this graphic novel has finally been completed. With the generous assistance from the Xeric Foundation, I am now in the process of self-publishing it. I hope to have it printed up and available for sale sometime during the first quarter of 2008 (or, if everything goes well, maybe even a little sooner).
From the back cover of Tonoharu: Part One:
Daniel Wells begins a new life as an assistant junior high school teacher in the rural Japanese village of Tonoharu.

Isolated from those around him by cultural and language barriers, Dan leads a monastic existence, peppered only by his inept pursuit of the company of a fellow American who lives a couple towns over.

But contrary to appearances, Dan isn't the only foreigner to call Tonoharu home. Across town, a group of wealthy European eccentrics board in a one-time Buddhist temple, for reasons that remain obscure to their gossiping neighbors.
Sample Artwork
Click on an image to enlarge. Color scheme in final book different than what is shown here.

Book Details:
Tonoharu: Part One
5.25″x8.25″, 128 pages, Two-color.
Cloth Hardcover w/ full color dust jacket w/ gold highlights.
ISBN Number: 978-0-9801023-2-1
Publisher: Pliant Press
Cover Price: $19.95
Publication Date: May 1, 2008
Copies of Tonoharu are available now. For info on how to purchase it, please visit the "Buy My Comics" section of this site.
To read blog entries about Tonoharu, click here.
For information about Tonoharu: Part Two, click here.