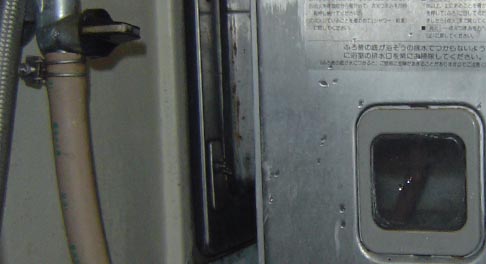 Pictured: One out of five knobs, and a little window.
I've been to Japan a few times now. First as a high school exchange student, then as an educator through the JET program, and most recently for as a "tourist",  living with my then-girlfriend for three months at the tail end of 2006.
My first night in her apartment she gave me the obligatory tour. The thing that most caught my attention was the shower. It looked like something from straight out of the Industrial Revolution.
It was an imposing metal unit, and its operation required the use of five different cranks and knobs. That evening my girlfriend provided the necessary explanation:
"Turn this knob to start the gas. Then turn that knob to "high", and then push and turn this knob, and hold it down. While holding it down, turn this crank. [*click, click, click*] Okay, look in the little window. Can you see the blue flame?"
I looked in the window: "No."
"You need to get the angle right. Look again."
I scrutinized the inside of the metal box from every possible angle, but still didn't see it. Wait. There's something, but it looks more like a reflection from somewhere, or a dying ghost. "You mean this little thing?"
"Yes, that's it. Now turn this knob to here. Okay, if the water gets too hot or cold, adjust that knob over there. NEVER turn it past this point, or you'll get burned. Enjoy your shower."
So I took my first shower in my new home. The funny thing was, with five different knobs, there was still no way to adjust the water pressure. It was either barely on, or off.
During the course of my shower, occasionally an arm, thin and yellow as an egg noodle, would squeeze through the crack in the door, check the water temperature, adjust the knobs accordingly, and then slip back out.
When my shower was done, I had tea with my girlfriend, the owner of the helpful arm. She explained that the shower was like a person; you needed to get to know its moods. If the water was just the perfect temperature, then it would soon be too hot or too cold. You had to anticipate this and act preemptively.
For the first shower, the arm took care of things for me. The second time I showered, the arm was at work, so everything was up to me. I struggled with some knobs and got the little blue ghost to appear. Then I played with more knobs and got the water going. Sometimes it would be so hot it could give you second degree burns, other times it was ice cold. Eventually I started to get the hang of it.
That night, I talked to my girlfriend. I took a shower today, I told her, but I'm not sure I did everything right…
She looked me up and down and said solemnly, "Well, you're still alive, so you probably did okay."
Pictured Below: The shower unit, in all its wonderful, horrible glory