Like many Gen X nerds, I collect curios. Quaint little bits of ephemera from America's past, incomprehensible consumer products from foreign countries, folk/outsider art… all that sort of nonsense.
My tastes are pretty narrow, however. The superficial bric-a-brac pedaled at raunchy mall gift stores, objects designed to be "weird for weird's sake", usually don't appeal to me. I like things that seem to speak to something sincere. As though they're just the tip of the iceberg, offering the barest glimpse of a heretofore unknown world.
One of my prized possessions is a pair of keychains given to me by a friend when he lived in Japan. Granted, finding weird knickknacks in Japan is like hitting the broad side of a barn, but these keychains are on a whole other level. They have that divine spark that I look for in the things that I use to bring clutter into my life.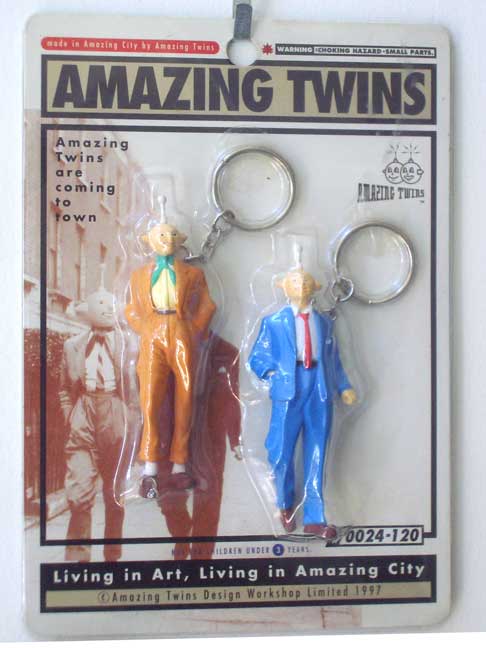 The two characters featured on the keychain set are the Amazing Twins. Their wardrobe and demeanor fail to suggest anything particularly "amazing"; that attribute seemed to be confined to their heads, which look like a combination between a Soviet era satellite and a football.
 The back of the package offers a little more info about these amazing individuals. Their names are Benson and Leo, and they were born in Amazing City of the Amazing Planet. They also have an Amazing Car.

Pictured: Their Amazing Car
The obligatory warning panel is also great, alerting consumers that this product is noxious if eaten by Pacman, and that misuse of these keychains can somehow cause your hair to start on fire. Thanks for the heads up, guys!
But the pièce de résistance is the partially obscured background image on the front of the package, which shows an actual photograph of the Amazing Twins walking down the street.
All these little touches converge into a product that goes above and beyond what would be strictly necessary of typical Japanese character merchandise. I was intrigued, and wanted to know more.
The copyright on the package was assigned to "Amazing Twins Design Workshop Limited". It credited the "Original Modeling" to Muk Sui-Fung and Colan Ho Ka-chiu; two decidedly un-Japanese sounding names.
I put my google sleuthing skills to the test. There wasn't much information to do found, but the little I did come across revealed a glorious fact: there was a whole book devoted to the Amazing Twins! It was published in Japan, and since I was living in the States at the time, I asked my friend to try to get me a copy if he could. After a few months past with no luck, and I quit pestering him and forgot about it.
A few years later, I found myself living in Japan. Some random synapses fired and brought the Amazing Twins back into my conscious mind, and I decided to look for the book again. I'd like to tell you that the search led me down dirty alleyways into shady used bookstores, but it was much less romantic than that; I found it on amazon.co.jp after a five minute search, and ordered it straightaway.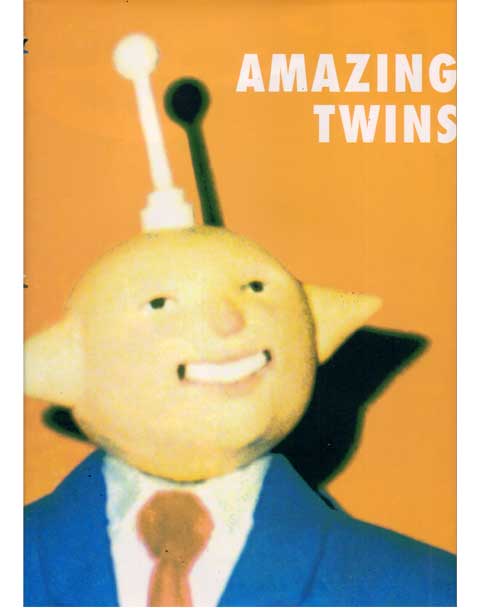 The Amazing Twins Book
When the book arrived a few days later, I was not disappointed. It was like a book you'd see in a dream. Over the course of its 84 well illustrated pages, it goes into minute detail about lives of the Amazing Twins, as well as the other residents and contraptions that populate the Amazing Planet.
Below are a few examples from the book. Click on each image for a larger version:
The book credits Benny Au and Colin Ho as the authors of this book (what happened to Muk Sui-Fung?). I guessing the whole thing was probably just a marketing gimmick to showcase the talents of a couple of Hong Kong graphic designers, but either way; the attention to detail shows real love and care, and really is quite, ahem, amazing. Good show, gents.
The book and the keychain set are the only two pieces of Amazing Twins paraphernalia I've ever come across, though a recent internet search revealed that the Amazing Twins at one time hawked computers for Hitachi (PDF link to the ad). I'm glad to see they're keeping busy. Does anyone out there in cyberspace know anything else about this amazing pair? I'm all ears.