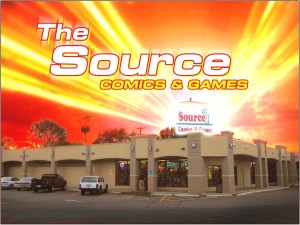 I'll be signing books at Source Comics & Games in Saint Paul this Friday, November 26th 2010 as a part of a Black Friday event at the store.
Also scheduled to appear is Britt Aamodt, editor of the new book Superheroes, Strip Artists, & Talking Animals: Minnesota's Contemporary Cartoonists, and Professor James Kakalios, author of The Amazing Story of Quantum Mechanics, as well as other cartoonists.
So if you can't make it to my Big Brain Comics Signing on December 4th, or if Saint Paul's easier for you to get to, please come on out!
Signing Details
What: Black Friday Book Signing
Who: Me, Britt Aamodt, Professor James Kakalios & others!
Where: Source Comics & Games, 1601 Larpenteur Avenue, Falcon Heights, Minnesota 55113, (651) 645-0386 [Google Maps]
When: Friday, November 26th, 2010. The store is open from 9am to 9pm. I'll be there from 9am until at *least* 3pm, maybe longer depending on how I feel.
Hope to see you there!