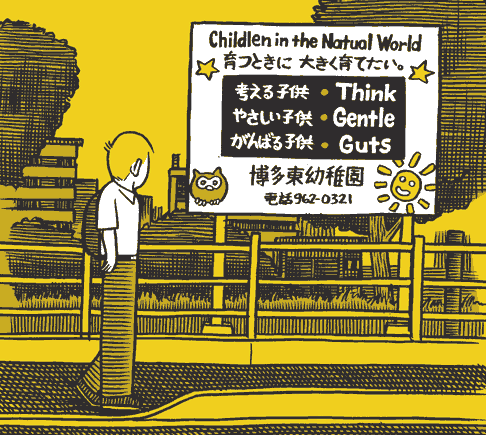 Image from Tonoharu: Part One
Since the raison d'être of this blog is shameless self-promotion, I suppose it's high time that I introduced the graphic novel I mean to promote.
The name of this "graphic novel" (or "book-length comic book", or whatever you want to call it) is Tonoharu. It follows the lives of a diverse group of expatriates living in Fukuoka, Japan.
The main character of the story works as an "Assistant Language Teacher" (or ALT) at a rural junior high school. I previously worked as an ALT on the Japanese government-sponsored "JET Program" ("Japanese Exchange and Teaching"), so it goes without saying that a lot of my own experiences shaped this story. But by and large, I think the similarities between my real life and the story are anecdotal. This is the most fictional comic I've written in years, and crafting the somewhat complex story has been alternately fun, frustrating, and illuminating.
I've been working on this thing for a little over four years now. Out of the planned four parts, I've finished the first part and about 8% of the second part, so I'm a little over a quarter of the way through the whole thing. Were I to continue at this breakneck pace, it'd take me another 12 years to finish the whole thing. God, how depressing. Granted, part of the reason it took me so long to get this far is because for the first three years I was working as an ALT full-time. But no matter how you spin it, it takes me a loooong time to finish a comic book. Yet another reason why I feel it's important to devote myself to comics full-time…
Anyway, here are a few artwork examples. Click on each of them for a bigger view. I'm still deciding on the final color scheme; so what's shown here is just temporary.

I'll write more about Tonoharu than you'd ever care to know in future blog entries. Next week's entry, however, will be devoted to my experience with the JET Program.